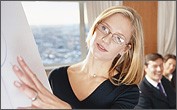 DEFINITION: the strategic reset of plans designed to stop counterproductive activities and strengthen one's stance or position.
Establish a base plan of actions to meet your updated job search strategy.
The third phase to the job hunt is…
putting your customized Job Search Strategy into action!
It's vital to 'execute' the job search strategy, now the you know where you want to go. Let's face it, the best made plans won't win the war if you don't get the troops out on the field, in time and in the right place… strategy matters!
To redeploy your Job Search Strategy, you will:
Create your Base plan of actions in an organized, step-by-step process.
Follow-up and be accountable for all activities of your Base Plan.
In Phase #3, you will learn how to:
Customize and organize your own Base Plan in a step-by-step process:
Creating and prioritizing your "To Accomplish" List.
Sustain your job Base Plan efforts through:

Following up and completing your To Accomplish List
Planning and monitoring your Schedule.
Setting and meeting your Deadlines.

Network, network, network. Learn the many ways how and where to network.
Track job opportunities and lock in interviews.
Pre- interview preparation and presentation.
Post-interview follow-up.
Remember: It's a full time job to find your next job!
Are you're ready to take your career to the next step? Then, contact us today!