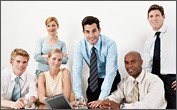 DEFINITION:
the act of creating an updated object, plan or process.
Develop your Job Search Strategy based on your updated career coordinates.
The second phase to the job hunt process is…
recreating your Job Search Strategy to align with your updated Career Coordinates. It's vital to 'chart your course' before driving your jeep over a field of land mines… strategy matters!
Job Search Strategy encompasses the following:
Research and organize your job search.
Create a strategy which shows how you can best utilize all of your resources.
Serves as the most meaningful and efficient path to new employment.
In Phase #2, you'll learn how to:
Create or revise your Job Search Strategyto align with your updated career coordinates.
Revamp your communication tools to match your updated career coordinates.
Identify and target specific industries, organizations and functional positions that are best suited to yourresourcesin today's market conditions.
Identify job opportunities in your current field of expertise that you had not thought of or explored before.
Identify and target the best job search tools for your specific job search strategysuch as the internet job sites, social networking, associations, blogs and more.
Need more information? Go to the next step.
Are you're ready to take your career to the next step? Then, contact us today!